Web Hosting Packages
2 GB Web Hosting Space
20 Email Accounts
10 Sub-Domains
20 MySQL Databases
5 FTP Accounts
***** Free SSL *****
Domain Registration not included
5 GB Web Hosting Space
100 Email Accounts
100 Sub-Domains
Unlimited MySQL Databases
20 FTP Accounts

***** Free SSL *****

Domain Registration not included
5 GB Web Hosting Space
40 Email Accounts
10 Sub-Domains
Unlimited MySQL Databases

Premium Support

***** Free SSL *****
Domain Registration not included
Web Design Packages
We are providing Web Hosting services on world's best and reliable web hosting servers for local and international businesses and for individuals. We have experienced team to resolve any linux or windows based cpanel or plesk related issues like webmail, passwords, creating new email users in cpanel, creating new sub domain in cpanel, like all cpanel management on immediate basis, we also offer services for domain registration in Pakistan and for all domain hosting purchasers around the world, having high class domain web hosting servers in pakistan and also register .pk PKNIC or pknic domains like .pk .com.pk .net.pk .org.pk domain names in Karachi Pakistan.
OUR WEB HOSTING SUPPORT POPULAR CMS!
Wordpress
WordPress is web software you can use to create a beautiful website, blog, or app.
Drupal
Drupal is content management software.
Opencart
OpenCart is an open source PHP-based online e-commerce solution.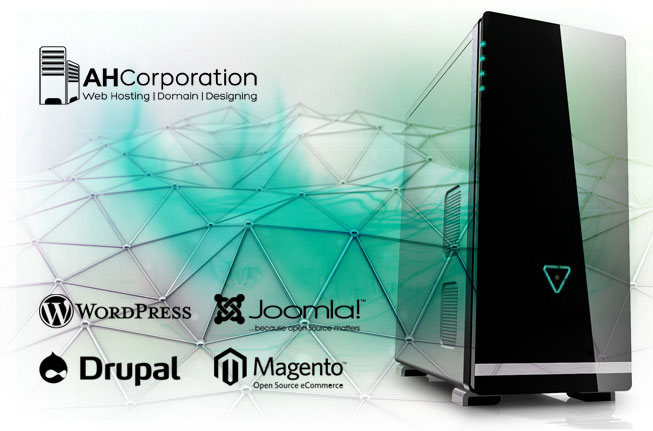 Joomla
Joomla! is the mobile-ready and user-friendly way to build your website.
Magento
Magento is the eCommerce platform trusted by the world's leading brands.
Prestashop
Create your online store with PrestaShop's software.
Web Hosting Karachi Pakistan
A Web Hosting is a category of domain hosting facility that benefits people and firms to activate website to access internationally. We offer cheap rates domain registration and domain hosting in Karachi Pakistan, domain registration is a name reserves on internet for your website identity, it normally identifies as .com domain registration, .net domain registration, .org domain registration, .biz domain registration.com.pk domain registration .net.pk domain registration etc. We are one of the top ranked domain registration and web hosting service provider in Pakistan, domain registration and hosting to be viewed on Internet by browser or explorer on your mobile phone / laptop.
AH Corporation is a low cost web hosting in Karachi Pakistan, people sometimes ask what is web hosting, a web hosting is a rented space allows companies and individuals to host a website or web page onto the Internet. A web host, or domain and web hosting service provider, is an industry that offers the tools and services required for the website or webpage to be viewed in the Internet. When net user wants to visit your website that is hosted on any web hosting server, all they need to do is type your website address or domain into their browser. Many web hosting service suppliers in Karachi Pakistan offer diverse kinds of webhosting service as per your economic and conditions but we AH Corporation offer cheap and reliable domain web hosting services in Karachi Pakistan.
AH Corporation is a webhosting service provider in Karachi Pakistan which offer best webhosting, low cost shared hosting, and WordPress web hosting Karachi. We also offer .com.pk .net.pk .biz.pk .org.pk PKNIC domains in Karachi Pakistan.
Our Gold and Platinum web hosting packages are good for normal website hosting usage but for small amount system resources, if you are looking for web hosting for websites having too much heavy traffic, choose our business web hosting plans, having minimum 50GB per month premium bandwidth to 1000 GB bandwidth per month in each business web hosting plan. Whether someone is searching for best rates domain hosting in Karachi Pakistan, AH Corporation is very reasonable place for low rates and reliable domain and web hosting in Pakistan, domain registration in Karachi Pakistan dot com.pk domain and hosting services Karachi or .net services Karachi .org services Karachi. biz and other TLD domain. As a domain hosting, domain registration and web design and SEO company, we have been growing from stronger to stronger in field of web hosting and web design. Using more advance tools and web hosting servers, we always try to give best services to all of our web hosting and web design clients in Pakistan. We are offering web hosting services in Pakistan, UAE, Saudi Arabia and other countries and also cheap web hosting in karachi Pakistan, low rates domain hosting in karachi pakistan offers domain registration hosting. We are providing web hosting solutions for individuals, companies and large enterprises. We strive to serve our customers in the best possible way we can. Our support staff provide best web hosting support until customer satisfaction. Webhosting provider is internet business, provides the host and services needed for the web site or website to be display on the internet www world wide web. As we offer domain and web hosting services, we also offer similar services i.e. web design or web designing service in Pakistan, also domain name registration and webhosting and development in Karachi Pakistan, we always focus on low cost web design and web development in Karachi pakistan. Also offers php web hosting cpanel web hosting in Karachi Pakistan, we also known for old web design companies in Karachi Pakistan. We are one of the best domain registration, web hosting and website designing service provider and domain host or domain hosting company in Pakistan always focusing on quality, offer webhosting in Karachi Pakistan, domain site hosting Karachi Pakistan. We are trustworthy web hosting and domain hosting provider in Pakistan and reliable name in domain hosting industry in Pakistan. Having decades of experience as domain hosting and domain registration services in Karachi Pakistan, our clients are also based in Islamabad PAKISTAN, we have domain search area on home page of website so if anyone want to check domain availability then come to our website and find availability of your desired domain name and hosting in Pakistan. AH Corporation established since 2003, we introduce many affordable and reliable domain and hosting services in Pakistani webhosting and web design market since 2003. We hosted thousands of WordPress and normal domain hosting websites across Karachi Pakistan and abroad so far. Webhosting is an online capability that makes your website's data reachable on the internet. When you purchase a domain and hosting plan, you are renting space on a physical server to store all the website's files and data. We provide the domain hosting facility and assets crucial for the actual and secure operation of your website in Karachi Pakistan. We as web hosts are liable for keeping the server up and running, executing security methods, and ensuring that data such as texts, photos, and other files are transferred successfully to the visitors' browsers. We as a domain and web hosting service provider guarantees that your website performs optimally and with better safety protocols. In addition, it shortens the many complex phases of hosting a website – from software installation to technical support. With various webhosting packages choices available, it can be given to you to decide which one is best for your website. Most web hosting service providers offer different domain hosting packages for different types of clients – from commercial website owners to individual blog creators etc, we also offer many types of excellent web and domain hosting packages as per client desired need.
AH Corporation not only offer web hosting services in Pakistan but also offer SEO search engine optimization services, purchase domain from AHCorporation Pakistan on very low competitive rates as well as web designing on worlds reliable web hosting servers, cheap and we are the best and cheap webhosting company among all best web hosting companies from PAKISTAN. Website design and hosting companies normally does not offer SEO, but we not only design websites but also offers domain hosting services in Karachi, Lahore and all over Pakistan. You may also compare our rates / price from all Pakistan based web and Domain hosting companies, we are competitive and reliable and domain hosting provider or domain hosting supplier.
Nothing like any other domain hosting companies and web hosting providers, we always emphasis on quality, reliability and response time for hosting support and web hosting related queries. Uptime guarantee which play very important role in success websites when talking about SEO. Because we are an old domain hosting provider our hosting accounts are integrated with into search engine SERP and position.
Domain Registration
We are offering domain registration service in more than 300 domain extensions like .com, .net, .org, .info, .us, .asia, .tv, if a domain extension in not mention on our website than email us at sales@ahcorporation.com.
We also provide domain registration in PKNIC extensions like .pk, .com.pk, .gos.pk, .edu.pk. I your desired extension is not mentioned on our website than email us at sales@ahcorporation.com.
We are one of the well-known Karachi based Pakistani domain hosting and domain registration service provider and our website hosting website i.e. ahcorporation.com showing all rates in Pakistani PKR currency, specifying advanced domain hosting and email web hosting solution. Our brand name is well known and web are one of the reliable web hosting company among all domain hosting and web hosting providers particularly in Karachi Pakistan and abroad. When talking about domain hosting price in karachi pakistan, people always discuss us and when talking about reliable host and domain services and domain hosting price in karachi Pakistan, people always discuss us for best price domain and web hosting in Pakistan. We focus on providing cheap or low rate domain registration services for all of our pakistan and international clients, and low rate web design and development including web hosting sites in pakistan and corporate email hosting. We offer affordable web hosting and domain hosting, our name know for low rate and reliable web hosting provider and web hosting company from pakistan, also cheap rate web design services from Pakistan
Having an online existence is every new corporate venture's top requirement in this phase when word of mouth can only get you too far. Excessive web hosting services are now frequently shared via social media, and without a good website to showcase your services and/or products, there's really no way to reach concerned probable clients.
Your website is only as dominant as the webhosting it obtains. That is why having a website hosting needs worthy web hosting services just as much as it needs a great plan. What people look for in Pakistan domain and web hosting providers, it is something like 1. Speed – Your website's speed matters significantly in keeping your customers on your page. Every part of your websites design can affect how fast your website is going to load – from the images, videos, text, and other sorts of graphics. Your web hosting will safeguard that your site will encounter these demands or you could miss valued sales. AH Corporation offers fluent speed web hosting shared servers in Karachi Pakistan. 2. Server Locations – Depending on the location of your web hosting servers, your web page will load quicker because of low expectancy. It's often decent to have a server within the state or region of your target audience. 3. Uptime – If your website is continuously down, clienteles leave your website. The sophisticated the percentage of your webhosting provider, the enhanced your probabilities are of keeping your audience looking through your site. Servers must stay up and running and so does your domain and hosting provider to keep the uptime at supreme. 4. Response Time – Your web hosting server response time controls the speed of your entire website and will eventually affect user communication. 5. Disk Space – Your website hosting's key factor, disk space refers to the storage of your site's content – images, videos, text, codes, etc.). The amount of disk space your website has and its speed can greatly bother your site's quality, and, ultimately, your visitors' experience. 6. Costs – Much like all other aspects of the web hosting, the steep or low costs of a domain and hosting service can often be directly effect to their speed and the worth of their services. 7. User Interface – The functionality of your website be liable on the ease of the interface it gives the customer. This creates the bond between your watcher and your website. 8. Support – A reliable web hosting or domain hosting service means everything to your website. In the event of an unforeseen down time, it's vital to have support available 24/7 over email.
Your website's success relies greatly on the performance of your domain and web hosting provider.
In the instance of webhosting Karachi that you are considering for the mainly exceptional web hosting in Karachi for your creation then look no more. We present absurd smartness for self-effacing and ordinary thing requiring to get on the web hosting in Karachi. Our remarkably fast servers, solid innovation, and low cost have made AH Corporation the selection of several web hosting in Karachi organizations crosswise over Pakistan. We affectionate domain registration and web hosting in Karachi managements attends committed focused help 24 hours a day, 7 days a week.
Features:
Our web hosting service is optimized for Promptness & performance on shared fast and liable web hosting servers.
Our domain hosting servers and tools are trustworthy.
We Offers cPanel web hosting control panel and plesk panel for windows
Delivers reactive and cooperative web hosting support in Pakistan for fixing all sorts of technical issues.
Free website transfers for cpanel web hosting users only.
Customer Support:
AH Corporation offer customer support using: 1) Email, 2) Phone, and 3) Support tickets. However, if you submit a ticket, you will get your reply within 24 hours.
Uptime:
We also provide an uptime surety of 99.9% on all of our shared web hosting servers hosted in Pakistan and abroad.
Datacenter:
We have data centers at:
France
Germany
Canada
AH Corporation is one of the reliable and most noticeable domain hosting provider in Karachi Pakistan. Our company is a supreme choice for WordPress users, as AH Corporation optimizes all its solutions for the smooth performance of the leading CMS.
Features:
Free Site Transfer
Built-in security CSF and mod security etc
World's Top Control Panel cpanel
Dedicated CPanel web hosting control panel
Customer Support:
We do not have to define SLA for reply times. However, we try to answer 80% of calls within 30 minutes in office time only. AH Corporation aim to resolve all your enquiries within the first 24 hours over email and support tickets
Datacenter:
AH Corporation webhosting has servers located in
France
Germany
Canada
Netherlands
AHCorporation offers reasonable packages. Our webhosting company offers the best domain and web hosting solutions, which help you to raise your business.
AH Corporation offers an easy script install on cpanel web hosting shared accounts that helps you to install WordPress and 100+ other software scripts with just a few clicks in cpanel web hosting control panel.
There's no doubtful the experience that AH Corporation brings to Pakistani web hosting and web design market since 2003. It was established in 2003 and we hosted thousands of wordpress and normal web hosting websites across the Pakistan and abroad so far. If you are willing to hosting a site via WordPress, we can offer you a great marriage of worth and wordpress hosting performance (including speed and reliability). Our 24/7 customer email support is available all time including public holidays for WordPress web hosting and for all other hosting like windows / cpanel Linux in Karachi Pakistan.
As far as low cost web hosts go, if you want a reasonable pricing cheap web hosting plan that offers eCommerce features in Karachi Pakistan, we can dish this up on a plate with no fuss at all for cheap web hosting in Karachi Pakistan. We have taken span of experience and applied it through the board to appeal to a real selection of markets especially for web hosting market in Karachi Pakistan. One of the possessions that AH Corporation does really well satisfies to beginners those are willing to use cheap web hosting in Karachi Pakistan. Our low cost web hosting platform is user-friendly, simple, and easy to know. We are a really solid choice for persons or small businesses who want an inexpensive web hosting plan with little additions or want to use low cost web hosting or cheap web hosting in Karachi Pakistan. AH Corporation doesn't just offer low cost web hosting in Karachi Pakistan; you can purchase your domain, SSL certificate, and website builder from us too in very affordable price web hosting website in Karachi Pakistan.
AH Corporation also offers domains registration such as .com, .net, .org, .biz and .pk as well in Karachi Pakistan, at the same time as we are common for shared wordpress hosting or webhosting, AH Corporation also has a lot of other tricks up our sleeve. We also claim notable VPS web hosting plans and dedicated hosting servers in Karachi Pakistan. They are flexible in terms of how extensive you want your webhosting term to run website in Karachi Pakistan
AHCorporation has been a compact occurrence in the domain webhosting community for years from Karachi Pakistan. We churn out some remarkable speediness and consistency results at a section of the cost of other rivals.
Web hosting Karachi Pakistan, offers domain and web hosting karachi Pakistan, web hosting and domain registration service provider Karachi Pakistan
web hosting or website host is a yearly rental service that allows anyone to host their website over www or world wide web. Web hosters are hosting companies that provide space on server rented or owned by customers classically in server data center. AH Corporation is a web hosting service provider based in Karachi Pakistan, hosting up to 3000+ clients locally and internationally, also provide domain registration, SSL and web designing services in Karachi Pakistan, and many other countries of the world.